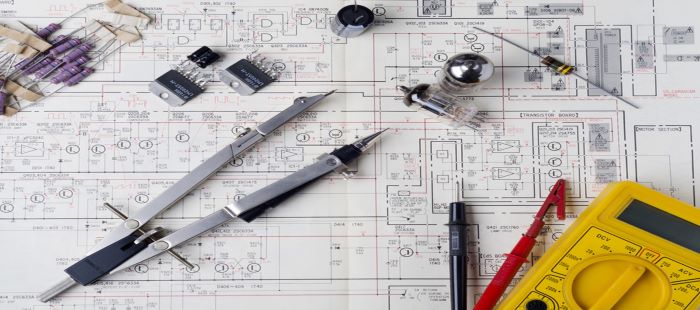 Electrical engineering is a varied and rewarding career path. You could be involved in any part of a project from the concept and design to the implementation and testing, or even the ongoing maintenance of the project.
If this is a career you're interested in pursuing, then it's likely that you'll be working alongside multidisciplinary teams, which may include engineers, architects, manufacturers and technicians.
In this piece, we've spoken to our Managing Director Clint Johnson, Electrical Engineer James Thomas, and Electrical Engineering Apprentice Andrew Sadd to gain an insight into their journey and how they came to the industry.
Beginnings
Clint's first introduction to the world of electrical engineering began back in 1986.
"I was introduced to automation when I was on a YTS scheme, working with a small team of engineers in County Durham." Says Clint Johnson, Managing Director of Control Freaks.
"They were building their own pick and place robots out of machined aluminium and pneumatic cylinders."
Electrical Engineer James, who has been with Control Freaks for six years now, began his journey at college with Level 2 and 3 Electrical Installation Courses. He said "once the opportunity (to work for Control Freaks) popped up, I took it and haven't looked back.," , "Learning about the control side of electronics ended up swaying me over working with standard electronics."
Andrew Sadd, an Electrical Engineering Apprentice, is the newest member of Control Freaks and had this to say, "The attraction to this career started with computer programming, however I realised that I wanted something more practical that incorporated this skillset."
Andrew continues, "the engineering industry is always growing with robotics and automation which, provides a specialised career path in programming complex PLCs and designing my own systems."
Experiences
Clint has enjoyed an incredibly varied career along the path to starting Control Freaks, but there's one role that Clint remembers most fondly of all, as the sole Electrical Engineer for a textile company in Spalding.
"I loved this job! I was working for an incredibly ambitious business, for a boss who was heavily involved with the manufacturing process."
"He was buying old textile machines that were in some cases in the region of 100 years old, and we were adding new control systems, and fully automating them."
"Seeing such innovation and passion from those around me certainly inspired me and pushed me."
When asked about his experiences with Clint and the team, he had this to say, "my experiences so far have been very positive, I've learned a lot while on the job, it's been a fun journey so long may it continue."
Andrew, who has only been with the team for four months, said "my experiences with Control Freaks so far have been quite varied from working on different sites with panel installs or maintenance to in the workshop building the panels." "I have also prepared the panels for delivery and delivered some panels to the customers myself. My experiences with the team have been very positive and they are an amazing team to work with and I look forward to my future experiences with the company as I become more qualified."
Benefits of Modern Apprenticeships
"I started on the YTS (Youth Training Scheme) in the late eighties, and it was rather controversial at the time, and has been since, in fact." Says Clint.
"The pay in the first two years didn't do much to encourage young people to remain in the jobs, which usually meant they were being used as cheap labour, with limited development opportunities, or were lured away by higher pay elsewhere."
These days, the modern apprenticeship scheme, just the like the one Andrew is working his way through, is put together to offer fair pay and an opportunity to develop and learn far more on the job than ever before.
One of the biggest issues with the old YTS was the fact that young people weren't receiving the development opportunities that the modern apprenticeships schemes offer, as Clint explains "I wavered a few times myself, but was fortunate enough to have an encouraging parent who convinced me to stick it out."
"Well, she was absolutely correct, and I don't regret a single day of it! I'm passionate about making sure that lads like Andrew can have a fantastic experience with us, so we can give them the knowledge and skills they need to go out and achieve whatever they want in this exciting field."
Future
In the course of the next few years, Clint and his team are looking to grow considerably and have been busy putting plans together to do just that, particular when it comes to hiring and investing in their apprenticeship schemes.
"We're on the lookout for talented people, just like James and Andrew, who are excited about coming on board with us."
On his future prospects, Andrew had this to say, "although this is my starting point in the industry as an apprentice, I'm working my way up to working as a robotics technician and hopefully further."
If you're interested in learning more about what it takes to get into electrical engineering, or you'd like to hear more about our services or the Control Freaks journey, why not get in touch today?