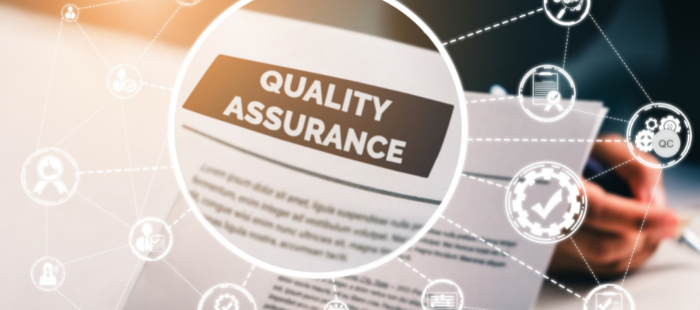 An ISO 9001:2015 certification is an international standard committed to helping organisations roll out Quality Management Systems (QMS).
It dictates a structure for any organisation that is looking to improve the quality and understanding of the products and services they provide. Furthermore, it helps to ensure they are able to meet consistently improved standards when it comes to providing for their customers, stakeholders, and other interested parties.
A Quality Management System is an accumulation of every process, resource, value, and asset that underpins the goals of customer satisfaction and organisational efficiency.
The ISO 9001 was first published in 1987, the latest version, which we're fully accredited for as of January 2022, is the ISO 9001:2015, which replaced ISO 9001:2008.
At Control Freaks, our ISO 9001 was obtained through the hard work of our Project Administrator Beth Johnson, who we'll learn more about in this piece.
Beth Johnson & Control Freaks
"I'd always helped Clint and the business during holidays and breaks from uni," says Beth, the daughter of Managing Director Clint Johnson.
"After uni, I came back thinking it was only going to be a temporary thing, but it soon grew into a huge job role that has become indispensable to the business."
When asked what her responsibilities entail day to day, Beth said "Although my role is an admin position, there's elements of purchasing, accounts, quality management, estimating, HR and first aid. These are all things that Clint did previously, but now the business is growing so quickly he's had to shift his focus."
What is an ISO Certification?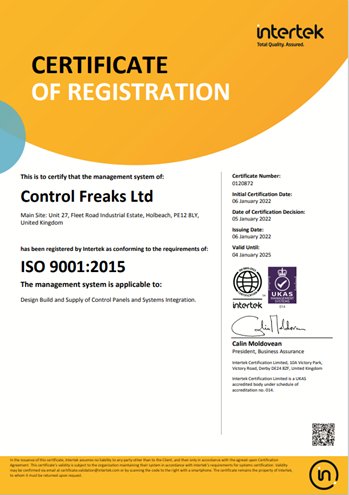 "Initially we looked into the ISO, because we had a customer who wanted to work with a business who had one."
"We did initially question whether this was something we'd need, but as we looked into it further, we realised this was a great way to continue our commitment to quality in a more formal way." Says Beth.
An ISO certification is essentially an approval from the governing body that a company, like us at Control Freaks, is compliant in following the standards that have been developed and published by the International Organisation for Standardisation (ISO).
There are several ISO Standards, but Control Freaks are certified for ISO 9001:2015, this means that we have quality systems in place to achieve the ever-evolving goal of customer satisfaction.
Our quality management systems give us the groundwork to help us build improved systems to provide only the highest quality and standards when it comes to interacting with customers and performing our job onsite.
Why is an ISO Certification Important?
Having an ISO certification highlights the quality and credibility of a company is a mark of integrity for attracting potential new customers. It also lends peace of mind to current customers and employees, who know they are working with a business that is committed to best-in-class customer service and ongoing improvement
"From our perspective having the ISO certification is an important stamp of approval for both our clients and our service partners to show that we're always working to strict standards and procedures in our working practice." Said Beth.
"Clint asked me to take on the certification process, initially because he was so busy as the business continued to grow, but also because I'm based in the workshop on a daily basis, so I have a completely holistic view of all the internal and external workings of the business."
How Long Does the Certification Last for?
The certificates last for three years, but they are subject to ongoing surveillance audits throughout that period to ensure that organisations, like ourselves, are continuing to upkeep the standards to their customers.
However, it's not an easy certification to obtain, the work that Beth undertook alongside an external moderator involved a good deal of theoretical work, which took over twelve months of hard work to complete.
What Are the ISO Quality Principles?
There are a set of quality principles that an organisation must adhere to ensure they're upholding the values of the ISO 9001:2015 standards.
"From our perspective, all of these processes were something we were already doing previously, so it was just a case of formalising them and continuing to maintain the high-quality that we're known for." Said Beth.
Each business will look at each element from a different perspective and may prioritise each principle in varying degrees.
Unlike the ISO 9001:2008, there is now a selection of clear tactical procedures, which complement the seven ISO 9001 principles that we'll cover below.
This process, known as the Plan-Do-Check-Act cycle is a significant evolution from the ISO 9001:2008, and includes elements such as:
Risk-based thinking
Leadership participation
Unified structure
Clarified documentation requirements.
These points are all complementary in nature, and must all marry together within an organisation to ensure that the standards of quality are upheld at all times.
The Plan-Do-Check-Act cycle is an ongoing process, and therefore has been categorised into seven principles, that must be upheld in accordance with the ISO philosophy:
Customer Focus – focusing on the customer means going above and beyond in order to provide tangible value and fulfilment with every interaction. It means that a business must closely align its commercial goals with the needs of its customers and understand the intrinsic value that each customer relationship has on the success of the business.
Leadership – leadership figures must commit to ensuring that each project is undertaken with all the correct resources and personnel in place. They must also demonstrate they are strong role models by encouraging thorough communication, outlining clear visions and strategies, and promoting a clear culture of ownership and high standards.
Engagement – organisations should promote and inspire a culture of collaboration and pride in the work they are performing.
Process – outlining effective and efficient processes means that an organisation can rely on consistent quality, while simultaneously highlighting areas for improvement and any risk factors.
Improvement – a commitment to ongoing development can help to create new opportunities for employees, improve skills and processes and define preventative measures to minimise the risk of error.
Evidence-Based Judgement – making decisions based on statistical data offers a wider scope for making informed decisions and efficiency, for ongoing improvement.
Relationship Management – organisations must consciously manage relationships with partners, vendors, and suppliers to truly understand the opportunities, drawbacks and the risk factors.
Final Thoughts
"Control Freaks started off as a one man-band, so the ISO is not something we've needed prior to this point." Says Beth, "however, now we're growing it's a great time to enhance our reputation for quality even further."
"It's been hard work, and I questioned whether we needed the extra workload at the beginning, but it's been a great experience for me and has helped everyone in the business improve too."
Finally, when asked what it's like working with her father, "We get on very well both personally and professionally, so it's great to be able to sit down and make decisions together that help the business."
If you're interested in learning more about ISO certifications, or you'd like to hear more about our services or the Control Freaks journey, why not get in touch today?