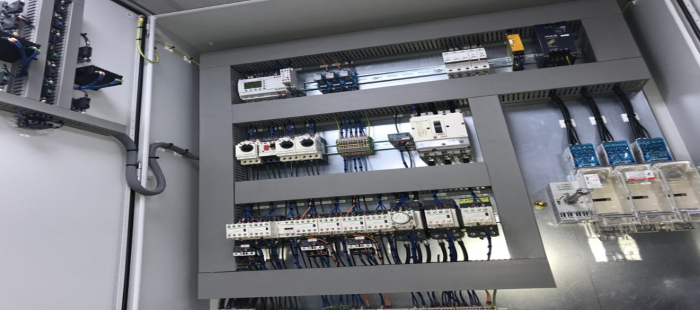 Machine automation, in basic terms, is any information technology that controls machinery. Many modern machines function with some form of computer control, and in many cases, they are also integrated with business systems that provide control inputs. For example, a machine might be operated by a factory automation system which oversees a production line.
On the face of it, there is very little difference between machine automation and robotics. However, the term 'robotics' implies a sophisticated level of automation, which responds to sensory perception and AI.
Automation systems are required to integrate multiple power and control systems and components for the machine to function correctly.
Faced with increased costs and demand, businesses that are reliant on machinery are increasingly on the lookout for electrical engineers, like ourselves, that can build automation solutions that lower costs and increase performance.
Components & Subsystems
Any machine automation system will primarily contain power and control components. For a smaller machine, these may be contained within one panel; whereas larger machines may need multiple panels – one for control and another for the power.
These components are usually for the following:
Power Distribution
Many standard electricians in the UK are trained to the British standard BS 7671; however this only applies to low voltage equipment and installations.
For large automation machinery the electrical standard is EN 60204-1:2006 + A1:2009 – "Safety of machinery – Electrical equipment of machines".
Some of the significant conditions for machine control discussed in these standards include working with isolators, enclosures, colour coding and documentation.
For every motor, electrical control is required, which ranges from simple on/off features to more complex applications.
Motor circuits must include both short circuit and overload protection. This will consist of branch-circuit protection, such as rated fuses, and a motor starter with overload protection.
Safety Systems
The risk of danger associated with a particular machine will drive the design of the safety system. There are several ways that machinery might utilise a safety system; the most obvious is a safety relay which stops the machine if someone moves too close.
In more advanced machines, safety controllers offer the same functions but they will allow for the integration of several different safety options.
Programmable Controllers
Controllers are available in a range of sizes to suit the application, which can be programmed through logic controllers, automation controllers or a PC.
Whatever software is used will be scrutinised to ensure ease of use. These days though, using software to programme a range of interconnected controllers is becoming more common. This gives the initial designer the opportunity to programme the system, and then select the right controller based on its capacity to handle certain functions.
Communication Systems
Another critical part of machine control is its communication abilities. It's a good idea for a machine to be built with multiple Ethernet and serial ports, which can connect to a variety of computers, human-machine interfaces, smart condition monitors and business systems.
Human-Machine Interface
The HMI displays crucial information about the condition of the machine using graphical data. HMIs often come in the form of touch screens, but can also come in text panels, message displays, or monitors.
Machine automation systems are comprised of multiple systems and components that are required to distribute power, keep people safe, and communicate with their operators.
Each of these systems, in order to be effective, must work in harmony. For that to happen, they are networked together through hardwiring or digital links.
Considered design and extensive planning, are required to ensure the system is reliable, flexible and easy to use and maintain.
If you are looking for a system that helps you reduce cost, minimise risk and maximise your production, contact us today and speak to one of our specialists.